The Cavalier transportation history
Cavalier was founded in 1979 with the simple goal of linking diverse truckload shippers in Ontario with local and international carriers looking to fill their available capacity.
Over the years, Cavalier's customer relationships have grown steadily. We now serve hundreds of shippers each day. We have forged excellent working relationships with a wide variety of Canadian and U.S. carriers, including some of the largest on the continent.
In 1985, Cavalier became a fully licensed motor carrier in its own right, providing domestic and U.S. service in the Southern Ontario, Quebec and Great Lakes region. As the only carrier with multiple facilities serving both sides of the border, combined with Daily service schedules and excellent coverage within a 500 mile radius of the Greater Toronto Area, Cavalier is one of the only true full-service, cross-border companies in Canada.
For four decades, Cavalier has provided a vital link between Canada's busiest traffic lane, Ontario-Quebec and Canada's largest trading partner, the USA. Today this business provides a full array of transportation services and strives daily to accomplish its vision of expanding customer service through innovation, creativity and teamwork!
At Cavalier, we deliver on the promises we make. We listen to the challenges our customers are facing and respond with unique, results driven solutions. We are accessible, accommodating and accountable. Our footprint is comprised of strong relationships and personalized performance that carries through each aspect of our operation.
Our licenses
Cavalier is a licensed General Freight Carrier
Licensed General Freight Carrier, Canada
ICC Contract Carrier, 48 State Authority, Fleet MC# 184856
ICC Freight Forwarder FF969
Licenses ICC Brokerage MC# 164217
Carrier SCAC codes Cavalier 3PL (CVLR),

Fleet division (CVTF)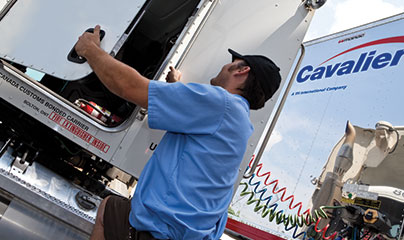 Our management team
Brian Ledson
Vice President & General Manager
bledson@cavalier.ca
905-857-6981 ext. 6222
Sanjiv Bhatt
Controller
sbhatt@cavalier.ca
905-857-6981 ext. 6245
Tim Harkness
Director of Maintenance
tharkness@cavalier.ca
905-951-8785 ext. 6246
Vicki Stafford
Vice President, Resource Development
vstafford@cavalier.ca
905-951-8785 ext. 5244